A better way to teach (and learn) Basic Electricity
ALTERNATIVE APPROACH
TO TEACHING AND LEARNING
BASIC ELECTRICITY
Many of us initially learned about basic electricity largely using a
variety of memorization techniques. While the PIE chart, and many
other methods may help people at certain stages of training, it is best
to fully comprehend the concepts from the start.
This presentation will show a better way to teach (and learn)
electricity from a much more hands-on and practical direction than
what is commonly used in textbooks and most formal training.
These tools and tips are useful LATER in a tech's development – but
they are often detrimental until after someone has a solid
visualization of electrical parameters of current, voltage, resistance,
and power.
Start a technician's development by helping them establish a strong,
intuitive, practical visualization of the key electrical parameters, and
let them learn the relationships (Ohm's Law) by direct hands-on
experimentation and testing.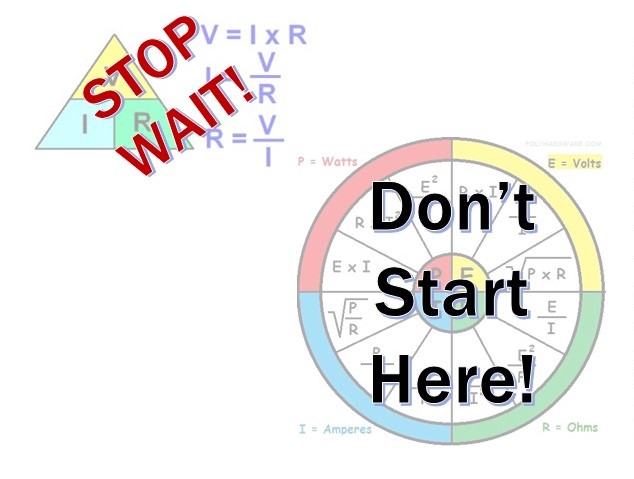 START WITH FLOW - COMPARE TO
FLUID FLOW LOOP
Most of the best techs and engineers think of a circuit in terms of electrical flow. In
effect, they can visualize the flow through the circuit, based on a schematic. So, start a
techs development by getting them to fully grasp electrical current flow – and build
from there.
To help establish this concept, it is sometimes useful to compare a simple electrical
circuit to an equivalent liquid pump loop. This simple analogy can be very helpful in
formulating an intuitive understanding of current flow.
Once a tech can visualize current flow, the other Ohm's Law concepts typically fall into
place pretty easily.
As the tech develops, we can easily add in 'bypass loops' additional resistances, etc..
Avoid covering excess details right away, and focus on the most fundamental concepts.
Once those are strong, the rest will come much more easily and will actually stick.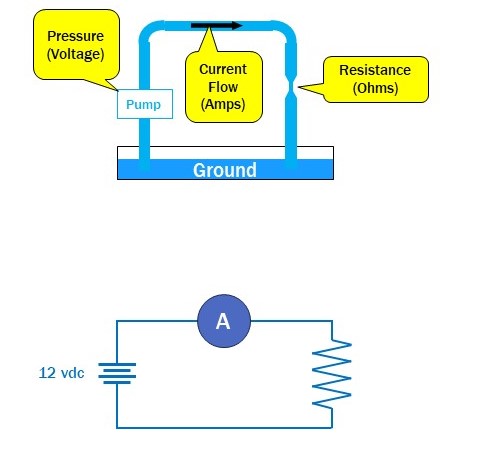 INTRODUCE ELECTRICAL
PARAMETERS IN A VERY PRACTICAL
WAY
Too often I see mentors or trainers who START with the equations, and memorization approach
and fail to let the individual truly grasp the concepts of electrical parameters.
Until someone can truly visualize the difference between AMPS, VOLTS, OHMS, and POWER
– these equations and cheat-sheets will be nothing but procedures to solve classroom or quiz
type problems.
Techs need to UNDERSTAND electricity in order to use it in the field.
Therefore, we need to start with ensuring techs fully understand the common electrical
parameters BEFORE covering any math or calculations or memorization.
Equipment needed to learn basic electricity should be simple and very visual.
Preferably with all wires and components visible. Use numerous ammeters and
voltmeters and lamps to allow easy visualization of concepts.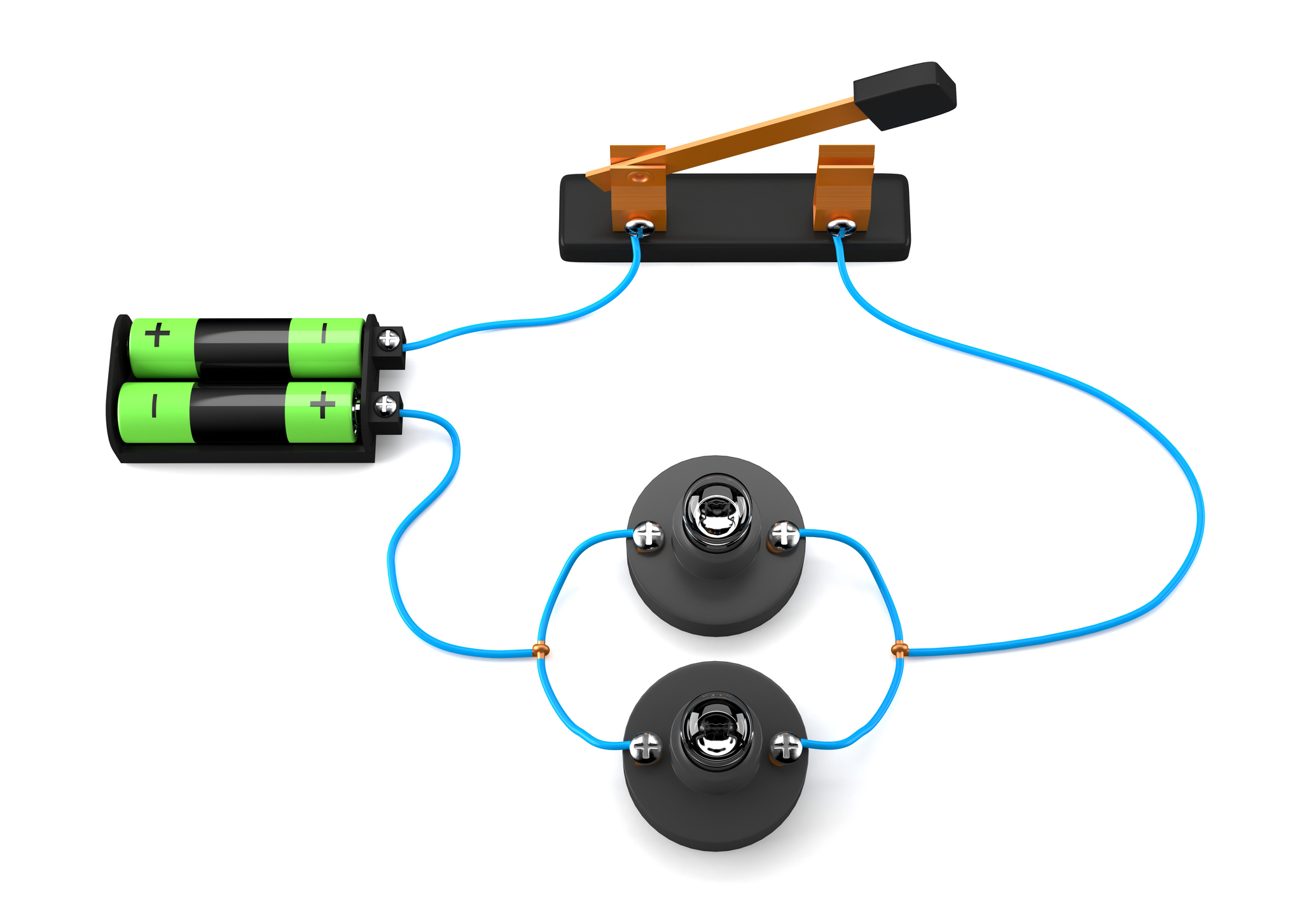 LEARN BY EXPLORATION AND
DISCOVERY
Let techs learn the natural way (experience and discovery) - For example:
Have techs construct a simple circuit similar to the one shown.
Ensure they can identify each point in the schematic back to the circuit.
Ask them questions such as:
What will happen to the other lamps if I close the knife switch?
What will happen to current if I close the knife switch?
Then let them test out their answers. Make sure to give them time to experiment and 'play' –
Because that is where the real learning happens!!!
The key is to get someone thinking 'what if' and then to test their answers out. Interestingly,
they may learn more from a wrong guess, than from a correct one – so allow that to happen
naturally. This is how our brains are wired to learn – NOT BY MEMORIZING
FORMULAS and ACRONYMS.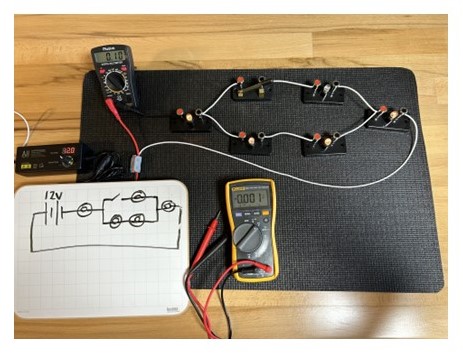 INTRODUCE TOPICS IN A STRATEGIC
SEQUENCE – AND REINFORCE EACH
ONE PRIOR TO MOVING FORWARD.
After they establish an understanding of what current flow is, have them observe how current behaves in series and parallel (Place small
ammeters in each branch and total current path and compare).
Then begin analyzing voltage drops and seeing how they add up in series (Use multiple voltmeters placed across each point to observe
voltage drops of selected components and total voltage).
Don't rush it - Spend some time solidifying these concepts because they are the key to success (and they are the primary root cause of
skills problems for most techs, even with 20+ industry veterans…). Moving too fast past these fundamental concepts is the #1 cause or
eventual weaknesses and problems.
Next introduce series & parallel resistance. Don't start with math! Just use standard resistances(such as 100Ω), and test intuitive
relationships such as doubling or tripling the number of resistors in series, or doubling/tripling the number of branches. Do 'qualitative
analysis' first (in other words: don't use numbers yet - just use "increase/decrease" and estimation type analysis).
Example: Get them to visualize why (3) 100 ohm resistors in parallel result in an Rt of 33.3 ohms, etc.. Do many of these until it seems
easy and intuitive to them.
START TESTING RELATIONSHIPS
IN DETAIL
Once someone has an intuitive understanding of current, voltage, and resistance, build
numerous simple circuits using power resistors (instead of light bulbs), and continue
inquiring on 'qualitative' values of voltage, current, and resistance in various modification
scenarios – what would happen to voltage or current at various points, if we did this or
that….
Just as before – Once they 'guess' at the answer, let them experiment and take time to fully
grasp each question & answer.
I typically introduce electrical Power at some point soon after they understand voltage,
current, and resistance. I demo power concepts using hand-crank generators, power
resistors, various geared DC motors w various pulley arrangements, etc.). But again – avoid
the math for now.
Do enough testing and experimentation so they can fully visualize and reaffirm the concepts
numerous times (ideally over a period of days or even weeks).
This will formulate a strong electrical foundation, from which you can begin building
realistic control circuits and troubleshooting them (which is the next step ideally).
HELP THEM LOCK THE
INFORMATION DOWN – BY USING
IT IN REAL WORK
Even if a technician learns basic electricity the right way and they truly understand it
– it will fade away if they fail to use what they learned.
One of the reasons I prefer not to teach our 2-day Basic Electrical course by itself is
that unless I know they get a chance to apply those concepts in a realistic and useful
way – I know it will fade.
So, we follow our 2-day Basic Electricity course up immediately with our 2-day
Electrical Troubleshooting course to help ensure that techs solidify their working
understanding of basic electricity and then immediately apply it to their
troubleshooting skills (which is where we want that knowledge to reside anyway – so
it's in the 'troubleshooting folder' in their brain, instead of the 'passing a class, quiz,
or test' folder…).
Mentors – by carefully observing a technician's troubleshooting, you should show
when and where they should be using the basic electrical concepts to better
understand, analyze, or troubleshoot a circuit or system.
APPLY ANY KNOWLEDGE
LEARNED QUICKLY AND
REPEATEDLY!
Once a technician has learned the basics (or learned anything really) they should USE THE
INFO IN THE FIELD ASAP!
A good mentor can help – but a Tech should also drive this behavior themselves.
Knowledgeable supervisors can also help by quizzing techs on what they learned at a training
event; or by asking them where they applied knowledge; or by digging deep to figure out
where any skills gap problems are rooted.
Ideally, a technician makes use of knowledge gained quickly after learning it, and if they use it
multiple times, the likelihood that they will be one of those top technicians increases
dramatically.
Nearly every single highly skilled I/E technician I have met in nearly 40 years of work, are
consistently solid on the fundamentals of their craft and can apply those principles in
open-ended ways to solve whatever problems come up, and/or to learn more detailed info as
needed.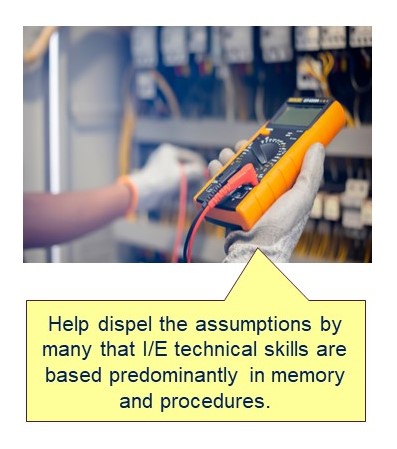 IF YOU'D LIKE HELP GETTING
YOUR TECHS UP TO SPEED – GIVE
US A CALL!
Orion Technical Solutions strives to do more than "Teach" – we strive to help people and teams become better, more skilled, more
capable of learning on their own. We take great pride and great satisfaction in helping companies and individuals reach their goals.
Our courses are continuously refined with that primary purpose in mind.
Check our website for info on our other I&E area course offerings and public course schedule – or give us a call to inquire about a
customized training course delivered at your location.
Our training is guaranteed with a 100% satisfaction guarantee!
Call us today!