Instrumentation & Controls
Course Overview: 
Delivery Options:
In-Person Instructed Hands-On Training
Online, Live Instructed Hands-On Training
Length: 4-days
Percent Hands-on: 50%
Description: This course introduces students to the core fundamentals involved with modern industrial instrumentation, measurement, calibration, and controls. This course places heavy emphasis on the topics that are often missed in other instrumentation training programs and that are usually misunderstood in industry and cause many problems.
This course is useful for anyone from a mechanical technician or operator needing to better understand the instrumentation associated with their systems up to senior instrumentation technicians and engineers. The topics presented are based on decades of expert observations of the problems and mistakes made throughout the instrumentation and controls fields.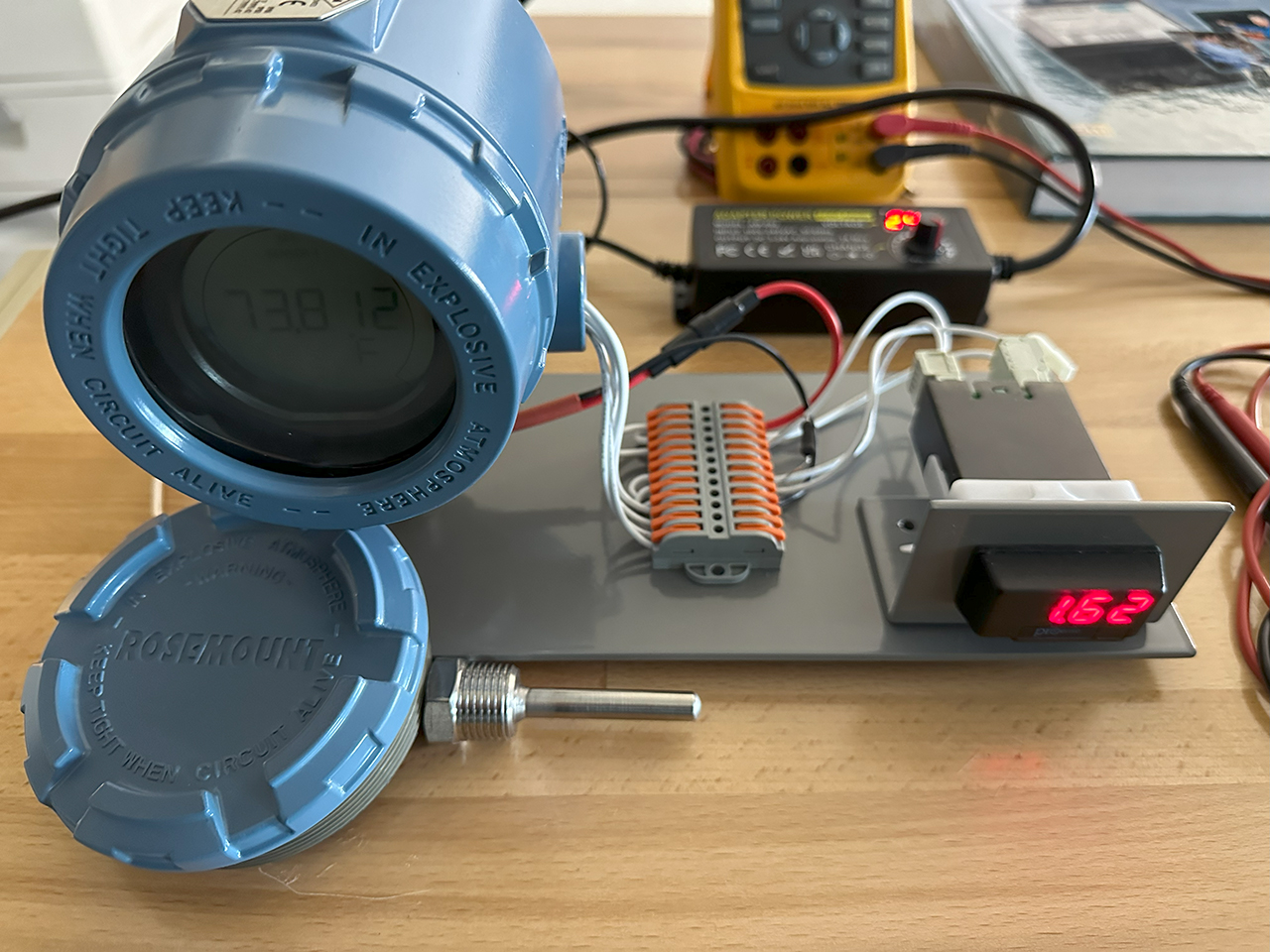 Detailed Description:
The first part of this course will utilize Rosemount® Smart transmitters connected to an analog input with scaled indicator, as well as Fluke® process meters/calibrators, and HART Communicators to allow students to dig deep into the real-world issues that are encountered in the field.
The 'big picture' objectives of typical Instrumentation systems will be the center point of discussions and training, to include process safety, process control, and regulatory compliance/reporting. This course covers the core concepts very effectively and reinforces material with excellent hands-on exercises. This course is designed to produce long term results. 
The control training portion of this course will utilize Rosemount® Smart Transmitters that the students will set up, configure, calibrate, and troubleshoot, along with various calibration and Process meters and HART communicators. 
This course will cover all of the underlying concepts that even many senior instrumentation technicians don't fully understand, and which often cause mistakes and problems in the field. 
Course Outcomes:
Understand the 4-20mA control loop and how to effectively test and troubleshoot analog IO problems. 
Understand the operation of modern SMART transmitters and gain familiarity with the common functionality, mistakes, and misconceptions associated with them.
Understand instrument and transmitter calibration concepts, including common errors, best practices for calibration programs, etc. 
Learn to utilize common instrumentation test and calibration equipment such as process meters, calibrators, and HART communicators. 
Understand signal noise and the importance of proper signal filtering (damping) and the safety and control performance problems that incorrect filtering can cause. 
Understand typical instrumentation calibration & maintenance programs and common mistakes and problems. 
Understand the operation and concepts behind typical control valves, actuators, and positioners. 
Understand basics of feedback control and typical methods used (analog, on/off control, integrating/ramping control, PWM, etc.)
Become familiar with the operation of common types of controllers and control systems used within the instrumentation field and with the typical hierarchy of plant control & shutdown systems. 
Learn the basic concepts behind PID controls and be able to recognize common field-induced problems in process control performance. 
Understand how to troubleshoot each of the following types of common instrumentation performance problem causes (deadtime and lag, noise, actuators and control elements, nonlinearity, operating outside effective range of control, reset windup/process saturation, etc.)
Become familiar with common process control strategies and methods. 
Understand potential process safety issues and mistakes when working with instrumentation.
Gain basic familiarity with Safety Instrumented System (SIS) testing, per IEC 61511. 
Hands-On Exercises: 
Set up, configure, test, and calibrate typical smart transmitters using modern calibration equipment and HART communicators. Some of the specific lab exercises covered include: 
4-20mA loop concepts and troubleshooting
Smart transmitter functionality (how they are different from old analog transmitters and why they must be treated very differently). 
Transmitter damping labs
RTD testing, calibration, and mistakes lab
Thermocouple testing, calibration, and mistakes lab
Smart transmitter configuration details (including damping, AI trim, AO trim, test outputs, fault settings, alerts/alarms, etc.  
Calibrating transmitters (and common mistakes and problems, and best practices)
Understanding instrumentation accuracy, errors, tolerances, etc.
Troubleshooting 4-20mA loops, transmitters, analog IO, scaling problems, etc.
Level DP troubleshooting and configuration demos
Flow DP troubleshooting and misconceptions demos
Simulated control loops setup, tuning, and troubleshooting demos
Analyze, optimize, and troubleshoot simulated control system performance.
Perform typical Safety Instrumented Systems proof testing for a SIL-rated instrument function (as applicable)
This course is available in two formats:
LINK: In-Person Hands-On Training (via Onsite or Public Scheduled Courses)
LINK: Live Online Training (with Hands-on Equipment Shipped to Customer)

Swipe/scroll to view table. 
Dates

Location

Course Title

(Click for Info)

Cost
Register

Jan 15-27, 2024

M, W, F, Sa

1-5pm CST

Live Online Course

(Hands-On)

Online Basic Electricity & Electrical Troubleshooting Course

$1995

Plus $500 Equipment Deposit

Register

Feb 26-Mar 9, 2024

M, W, F, Sa

1-5pm CST

Live Online Course 

(Hands-On)

Online Instrumentation & Controls Course

$1995

Plus $1000 Equipment Deposit

Register

Mar 25 – 28, 2024

Houston, TX

$1995

Register

Apr 1 – 4, 2024

Houston, TX

$1995

Register

June 3 – 6, 2024

Dallas, TX

$1995

Register

June 10 – 13, 2024

Dallas, TX

$1995

Register

July 22 – 25, 2024

Los Angeles, CA

$1995

Register

July 29 – Aug 1, 2024

Los Angeles, CA

$1995

Register

Aug 5-8, 2024

Los Angeles, CA

$1995

Register