CUSTOM & ONSITE TRAINING SERVICES
Would you prefer to have customized training delivered directly at your location or at your facility?
We work with you to figure out the best group training for your business that would be customized specifically for your needs. We use a hands-on approach that uses industry-specific equipment to train your team. Avoid the hassles, costs, and challenges of traveling to distant or remote locations for training. Let us set up a custom onsite training course at your facility.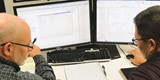 Why Choose Onsite Training?
Some of the benefits of onsite (in-house) training:
Save time on travel
Save on airfare, rental cars, and hotels
Avoid travel delays and problems 
Keep key personnel available onsite
Train on weekends or back shifts
Train multiple shifts (For example: we can provide 4 + 4 + 4, or 6 + 6 hour training rotations to cover different plant shifts) and still allow some time for each shift to get critical work done. 
Include site-specific details and information in the training 
Set up training to accommodate your specific needs (factoring in personnel, equipment, etc..)
Hands-on experience
What to Expect
Onsite training can be provided either at your facility or at a local meeting room if preferred. We can help arrange a meeting room in your area and can even set up applicable catering if desired. 
Onsite training maximizes the value and the effectiveness of your training investment.  Our experienced instructors will bring our training equipment to your site and deliver a customized course that is focused on the learning objectives and desired outcomes specific to your organization. 
Onsite training is usually the most economical solution if you need 6 or more personnel trained, but it can still be the best solution even for smaller organizations (with as few as 1 or 2 personnel) in many cases. These onsite training courses allow you to get high-quality, targeted training at your location and on your schedule. 
We can even integrate preparatory / self-study programs, remote online training, and assessment services in with onsite training courses. 
Some of the most popular courses available for delivery at customer location include:
In addition to our standard, and publicly scheduled I&E training and automation courses, we can deliver a wide range of customized courses for onsite training, such as: 
Electrical Motor Controls (custom only - call for info)
Industrial Electronics (custom only - call for info)
Contact us for more information - or submit the Onsite Training RFQ form below to get started. Schedule a training course today!