Electrical Troubleshooting Course
Onsite Electrical Troubleshooting Training. 
We will bring our training equipment to your location and provide high quality, hands-on training that is tailored to your personnel, your schedule, your equipment & systems, and your specific training needs. 
We work with you to design a course that will achieve the desired objectives for your team. 
Our onsite training classes can be very cost-effective and result in dramatic improvements in your team's skill and performance levels. 
Some of the benefits of having training delivered at customer's location include:
Flexible schedules (back shifts, weekends, split-shifts to allow maintenance and production support, skill or experience level split groups, etc.)
Simplifies logistics and lost time for your personnel
Reduce travel cost of traveling to remote locations (hotels, airfare, rental cars & fuel, food, etc.)
Avoid potential travel delays or other problems
Our onsite training offerings can include skillset needs assessments, development of training plans & curriculum, development of standard and customized training materials and resources, remote progress checks, mentoring, and guidance for each individual or for groups, or whatever your team needs. We think out of the box to solve your training needs. Give us a call today to see how we might help your team! 
---
Detailed information on our Onsite Basic Electrical Training - (Any onsite course can be modified to meet customer needs and goals)
Length: 1 - 3 days
Percent Hands-on: 50 - 75%
Description: 
This course helps the students begin making sense of typical electrical circuits, schematics, prints, and diagrams, and helps them develop a sound logical approach to troubleshooting.  
Course Approach:
In this electrical troubleshooting training course, students will build and then troubleshoot increasingly complex electrical circuits. Using our exclusive ELTS training stations, Students will construct numerous electrical circuits using our quick-connection DIN Rail style terminal blocks and clip on wire marker numbers to match the applicable prints / wiring diagrams. This class does an excellent job of helping students correlate schematics, diagrams, and prints to the real world and helps students learn to use the available references and resources instead of leaning on 'tug-tracing' wiring or other incomplete practices.
After they have constructed the circuit properly, students will operate the circuit and take various measurements to observe behaviors under good conditions to relate the circuit to the applicable diagrams and schematics. Once students understand the circuit operation, the instructor will insert one of many available faults into the circuit (bad components, etc.) and the students will be tasked to utilize the standardized 7-step method to logically troubleshoot the circuit based on the symptoms and results of measurements. Rather than simply focusing on whether the students find the fault or not - this course emphasizes the logic students used to find the fault. We strive to 'unteach' the practices of 'easter-egging' or 'guessing' (i.e. poking around with fingers crossed). Each problem includes real discussions about why each troubleshooting step was performed and what could have been done better or differently. This training approach has proven incredibly successful at helping technicians learn to troubleshoot in a more methodical, more logical manner, and ultimately that is what boosts the performance level of any maintenance technician. 
The course focuses on utilizing a logical troubleshooting methodology, to include analyzing and solving the likely root cause of failures and determining appropriate retest procedures. After each troubleshooting scenario, we will discuss what could have been done more logically or more efficiently in the troubleshooting, RCF analysis, repair, and retesting procedures. Many I&E technicians fail to fully perform these steps as an integral part of their troubleshooting efforts and the results are; repeated failures, added problems, cost of swapped parts, damage to swapped parts, damage to other systems, repeated or excessive downtime, and many other expensive or unsafe situations. 
Benefit: 
This course is extremely helpful for anyone who works directly with electrical circuits or who works alongside electrical personnel or works with equipment interfacing with electrical circuits. Along with strengthening the skills of a qualified electrician, the training could help a manager who needs to better understand the work of electricians or instrument technicians, as well as a mechanic or an operator who works indirectly with electrical equipment. Along with solidifying the student's understanding of electrical circuits, this course helps establish a more logical approach and methodology to problem solving and troubleshooting in general. This course has received excellent feedback from electricians, instrument technicians, operators, mechanics, and others directly or indirectly involved with electrical troubleshooting and problem solving. 
Course Objectives:
Understand and be able to read and interpret electrical 'ladder' diagrams to include understanding wire numbers, terminal numbers, component tags, etc. 
Relate electrical ladder diagrams to typical wiring diagrams, schematics, and other prints. 
Know how to methodically build (and/or trace or interpret a circuit) from a wiring diagram and/or ladder diagram or schematic. 
Understand the difference between electrical ladder diagrams, schematics, and wiring diagrams and know when and where to use each. 
Learn to read and interpret an electrical diagram to predict system operation, voltage, and current readings at key points. 
Learn to use advanced features of digital multimeters to advance troubleshooting capabilities (Diode check, min/max/avg, continuity test, etc.)
Learn how to troubleshoot common components including various types of switches, indicators, relays, timers, diodes, capacitors, etc.
Learn to utilize troubleshooting tricks such as half-splitting, negative tie-down & voltage tracing vs voltage drops, comparison checks to working circuits or branches, avoiding parallel circuit errors, etc. 
Learn to utilize a systematic logical troubleshooting methodology. 
Learn to keep track of symptoms, measurements, tests, and outcomes when troubleshooting. 
Learn how and why to find the root cause of failure for all equipment failures.
Learn to determine necessary retest requirements for various equipment, systems, and components pertaining to safety, operations, efficiency, regulatory requirements, etc.  
Hands-on Exercises:
Construct a series of increasingly complex circuits on our Electrical Training Stations per provided electrical prints, schematics, ladder diagrams and/or wiring diagrams. The circuits constructed will include various types of switches, circuit protection, indicators, pneumatic solenoids, potentiometers, speed controls, SPST relays, DPDT & reversing relays, timing relays, motors, pumps, pressure switches, cam/limit switches, motor contactors & electronic overloads, etc.
Troubleshoot increasingly complex faults injected by instructor in a methodical, logical way and discuss the logic and potential areas of improvement for each fault.
Analyze the RCF (root cause of failure) for each fault and resolve as appropriate. Several faults are setup to help solidify and show the importance of this step in the troubleshooting process. 
Determine and perform appropriate retest procedures needed to ensure full functionality of the system based on fault, RCF, components replaced, and work performed (in other words don't just check that the reported faulty symptom has been corrected and move forward - verify that the system is truly 100% operational, to avoid the often-missed issues that can cause repeat problems, down-time, safety issues, etc.)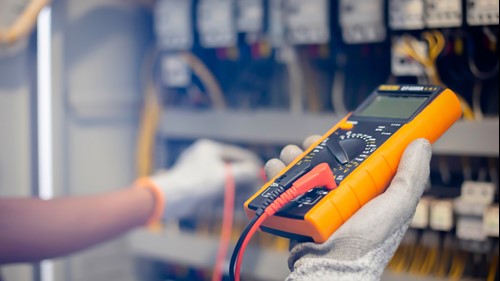 Contact us today or submit an onsite course request form to get information and a detailed quotation for customized onsite training delivered to your team at your location!